Yeah Yeah Yeah.. So Moo Moo and Birdy went pak-tohing and pang-seh-ded Meow Meow and RR, and since Meow Meow is busy with projects/exams, RR is left alone.
All nighter ktv is damn stressful on the stamina. I've gotta admit I'm old. Physically. I think i already BTH-ing at 2am liao and our list is like practically always full 30 songs. From SHE->FIR->Mayday->Shin->Nan Quan MaMa->Jay->Yanzi->Penny-> blah blah blah... Luckily there's no one after our slot so we sang from 10.30->1(supposedly slot ending time)->4!! All at the price of 21.90++++
Remember the grill urself restaurant Birdy keeps raving abt? I finally went there to put myself on the grill.
Eating my Comrades
Smile~
Yummy!~
We also discovered some unique salad and decided to try it.
border="0" alt="" />
Step 1: Pay for the salad
Step 2: Shake like Zoe Tay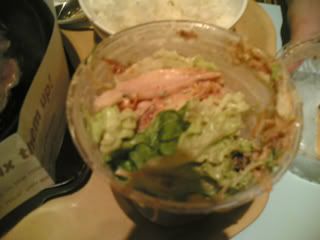 Step 3: Enjoy!~
N dun say we nvr work ok. We extended the scope of Kopitiam Invasion globally aka Geylang.
Geylang Lor 15 Nice Dim Sum..
(Chee Chong Fun is nice but the xiao long bao not fantastic)
But Expensive & Serves Drinks in TUBS!
Since we're at Geylang, where the place nvr sleeps (of cos lah.. do dat kinda thing sleep wat..), we walked down a few lorongs to Lorong 9 for..
Dao Huey King!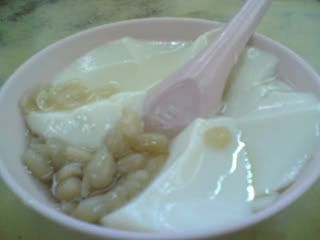 Big Bowl of Dao Huey with Peanuts
Although it was drizzling by this time, we walked without cover (bcos Birdy's 1.99 umbrella which jus came back from the typhoon couldnt make it), from Lorong 9 all the way to Lorong 44 <-End of Geylang. Initially, we wanted to look for more food, but the sky is breaking soon and we're tired/exhausted/with wet shoes, we decided to get a cab.
Cabs exist in abundance in Geylang, probably is to fetch the husbands back to their wives' bedside b4 the wife wakes. We the 2 kiam pa animals thot that since we're gonna get a cab, since we're walking all the way, since a lot of things, we decided to take no cabs other than Mercs cab.
And so we walked, squinting our eyes thru the drizzling setting for any extremely bright neon taxi signs and white car body. We missed 2 as the uncle din see us waving on the other side of the road. 1 couldnt take us as he has a booking in Orchard later. 1 was bcos we werent looking for a cab at that time.
We finally got into a Merc cab at 6.30-40 like dat. Ahh.. The satisfaction of comfort after a long wait. Uncle was nice and distributed Today newspaper to us. Birdy was already sleeping when the cab was nearing Jurong.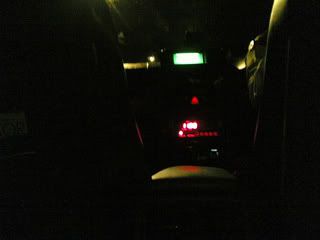 Evidence of a Mercs Cab
I bathed and plonked into bed at 7, sleeping till 11.45. Had wanted to wake up at 12.30 but couldnt sleep after waking. I'm feeling drowsy as I type. Mus be the overnight + the pint of Heineken I had jus now.
Btw, Sunshine plaza got one dim sum store bueh pai. Its near Anime House dat side, the prawn dumpling is nice when hot. Try the milky custard bao if u all have loads of empty space in ur stomach.
And.. my Strike Freedom and Destiny NOT confirm got. GRR.. Thou my fren says he'll call me if it arrives and they have extra. Only 2 sets of Strike Freedoms confirmed. So sad..
And.. OH YA.. Petit Studio 2 restocked at Latendo. I saw it on display.
p.s. Can Birdy give us an update on her hair trip??